CEO
As CEO of a Company it is critical to have access to information within a company, to make better decisions, to get reports on critical information  as well as safe guard the companies information.
With our solution, ensuring documents are stored, easily accessed and compliance is happening is possible.
BENEFITS

Secure documents while making them accessible
It's important to keep your documents safe while making sure everyone in your company has access to the content they need. Permissions are set automatically and dynamically in M-Files. Automate document security and accessibility for everyone.

Find documents
instantly
Sometimes finding the right document when you need it seems impossible. Where was that file saved? Who edited it last?
What if it didn't matter?
Our solution eliminates the chaos of traditional folders by organizing content based on what it is, so you never have to remember where a document is saved or which version is the right one.

One version of
every document
What if everyone in your organization could always find the precise and up-to-date document they needed quickly? In M-Files, there's only one version of every document. No matter what type of document is needed, it's always current.

Sharing &
collaboration
Sharing documents in M-Files is as easy as a right click. Whether you need to send someone a document or collaborate with colleagues, M-Files keeps everything streamlined and organized.
VIDEO: AUTOMATIC PERMISSIONS
Managing complex access control policies becomes overwhelming with the limitations of most systems. M-Files provides unlimited control over any type of content while keeping things simple. That's because permissions can be assigned based on what something is instead of where it's stored. Give control back to the responsible business manager while freeing up IT resources with Automatic Permissions from M-Files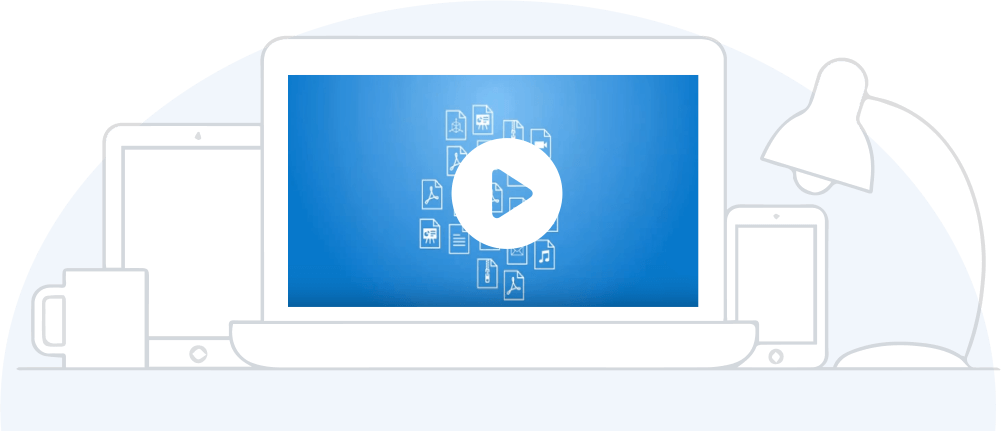 CIO and IT
You deploy and maintain every bit of technology your company uses. The company relies on you to make it all work. From computer networks to information security to server infrastructure, you keep everyone and everything in your organization running and connected. M-Files automates processes, access permissions and more so you can focus on other important projects.
It can further help you manage your projects and project documentation.
BENEFITS

Flexible deployment
It's your choice: use your existing servers and infrastructure by running M-Files on-premise, deploy M-Files in the cloud powered by Windows Azure, or enjoy the benefits of both with a hybrid cloud deployment.

Guarantee high user adoption
The biggest challenge of deploying a new system is getting everyone to use it. With M-Files, user adoption is never a problem because it conforms to how you work.
Manage documents, information and processes without having to consult a user manual. It's intuitive, accessible from all of the programs you use and it just works.

Secure content while making it accessible
It's important to keep your content safe while making sure everyone in your company has access to the files and information they need. Permissions are set automatically and dynamically in M-Files. Automate data security and accessibility for everyone.

Focus on the important stuff
Your time is precious. The last thing you need to worry about is managing tasks that can be handled by others in the organization. M-Files reduces the demands for IT involvement by enabling those closest to the business need to easily configure the system to meet their requirements.
ISO, Quality and Compliance
Ensuring CAPA's are followed and reporting on progress is possible with our solution.
Ensuring Quality Processes are documented and kept up to date is important, identifying which version are current is also critical. Experience this and more with our solutions.
When it comes to ensuring compliance is being followed, with powerful workflows we are able to ensure your company and its employees are compliant with various processes.
BENEFITS

CAPA Reports
Get reports on corrective and preventive actions – ensuring that all issues are being corrected properly.

Super Quick Audits
By bring able to hold all information and documents on one platform, you can be rest assured that you would be able to find all documents with a click of a button

Compliance Anywhere
Supporting Cloud as well as Hybrid Deployments, where you have Cloud as well as on-premise. Be sure you can be compliant even while out of office.

Automate Quality Proceses
Ensuring that a sequence of steps are always followed would allow you to automate quality processes, this will ensure that processes run smoothly with the highest level of quality standards.
FINANCE
Finance is often the heart of the business and it is critical to get all finance related information and documentation in order to run the operation of the business.
Utilising our document management software you can be sure that your Supplier Invoices, Statutory Documentation, HR Documents, Customer Documents, Agreements and a host of different documents are stored for quick access
Cut down audit times to days with no physical document checking.
BENEFITS

Super Quick Audits
Audits are often pain staking, however with our solution – a username and password for the auditors makes audit and easy exercise with auditors being able to search for the information they need.

Mobile Phone Based Approvals
Approvals dont have to be signed on a paper, neither do you have to wait to be in the office for approving any transaction.
Utilising our solution, you can approve documents from your mobile phone.

Workflows for Processes
Finance Processes often require strong controls to ensure that processes run smoothly and are water tight. We are able to build workflows to automate as well as bring a high level of efficiency to your operations.
With powerful workflows, trust i27 to delivery an agile solution.

Central Storage
Ensuring all documents are centrally stored is critical and a key aspect of ensuring financial records are in good order. Instead of documents being stored on different machines, we can ensure all documents are stored centrally
LEGAL
Legal the guardian of the business ensuring that the business is protected in the transactions it carries out. Its extremely important for Legal to ensure that the Documents are in order.
Dealing with cases, contracts, agreements and a host of different document types will be an ease for Kenyan Company looking for a document management system.
BENEFITS

Contract Management
From contract expiry notifications to collaboration on contracts, our DMS supports all functions of comprehensive contract management.

Case Management
With leading law firms utilising our solution, we have developed a strong case management module within our DMS System. Hence as a legal department – be safe in the knowledge that we have a strong case management solution with powerful workflows.

Physical Document Control
Our solution is able to also cater for physical documents that require management, from which shelf they are stored on to which box. A solution that not only cater for digital documents but physical documents as well.

Templates
Avoid having to re-do documents over and over, with smart templates we are able to generate documents on the fly. All that is required is the key contents being filled and the rest populates like magic.
OPERATIONS
Operations often requires that strict steps are followed, we are able to develop custom checklists within the system to ensure that a strict checklist is followed to ensure work is done to perfection.
We are further able to build workflows to streamline operations. With support of SOP Documentation, Templates and a range of multi functional operations support be sure you are covered.
BENEFITS

SOPs Alive
We are able to make your SOP's come alive by utilising our powerful document management software. We can build SOP's into our M-Files Solution to allow you to ensure a sequence of steps are followed and routed based on different lifecycles.

Easy Reference
Have access to all your information on one platform, be able to analyse and report on this information with ease. Just a simple search query will allow you to report on a variety of aspects.

Mobile Operations
Don't let your operations halt because you are not in the office. With mobile support, we not only are able to add documents into the system but also take pictures of documents and add these.
i27 leads in brining efficiency to your operations.

Project Management
We have strong support for Project Management, we are able to breakdown down all projects into tiny pieces with deliverables as well as easy document sharing.
Support on cloud solutions are also possible allowing you project management team to work from anywhere.
SALES
Access to Product Information, Placing Sales Orders, Sending Marketing Material can all be done via M-Files.
We further support sales teams by allowing them to submit their expense claims utilising their mobile phones. Very simply, all they have to do is take a picture of a receipt and submit it for approval.
BENEFITS

Mobile Phone Expense Approval
Submit expenses incurred in the field with M-Files powerful mobile application and photo capture capabilities. This then goes into a workflow for ease of approval.

CRM
Our Solution is as good as a CRM. Easily find customers by location as well as get the right contact persons for different customers. Finding the right information is as easy as searching on Google

360 Degree Customer View
Opening a Customer Record will provide you with a 360 degree view of the customers, be able to see all Sales Invoices, Delivery Notes, Credit Notes and all related information for customers in one snapshot.
Share Documents
Being asked for a document by your customer in the field, can be provided to them instantly. With powerful mobile functionality, just click and share. Never be bogged down waiting for other parties.
MARKETING
Marketing generates a huge amount of information, content, pictures and videos. Manage all this content on one platform allowing you ease of access when you need it.
We are further able to track each marketing project, its progress, content related to the project as well as all milestones.
Marketing Campaigns are now a breeze to manage.
BENEFITS

Centralised Content
Store all marketing information in one place, have access to the latest versions of marketing materials and track changes on press releases to ensure you always have the current one.

Marketing Milestones
Track marketing campaigns from A to Z, setting milestones for each and every stage. Get notified of over due milestones and see snapshots of any material related to each milestone.

Access Anywhere
Our software allows you to have access wherever you are – utilising mobile applications or web access. Never be limited by access restrictions.

Remote Capture
Capture your marketing events anywhere you are, just get the mobile application out and take pictures and you are able to instantly store them into the system.
HUMAN RESOURCES
i27 have built a very powerful HR Solution which supports leave requests, employee information management, contract expiries as well as leave day balance management.
For Kenyan company looking for HR Solutions not only do we have a comprehensive solution for you, but we can complement all areas of your business with our solution.
BENEFITS

Contract Management
Tired of keeping a track of employee contacts – knowing which ones will expire. With notifications of when contracts are expiring you can easily keep on top of all your staff contracts.

Leave Day Management
There is no more requirements for lengthy excels or manual reconciliation of leave days. We have a solution which allows you to deduct and keep track of leave day balances. Support of Paternity/Maternity as well as Encashment is possible.

Employee On-Boarding
From allocations of desks to an email address we can make the entire employee onboarding process a breaze for new employees.

Training Management
It is extremely important for us to ensure that the workforce is always ahead with training allowing delivery of an extremely high level of service. i27 are able to ensure that training of the workforce is a no 1 priority.
CUSTOMER SERVICE
Serving a Customer Efficiently often requires access to information about the customer and their transactions. We believe the customer is KING, and with a snap of a click we are able to see all related customer information.
We call it a 360 degree view of your customer.
BENEFITS

360 Degree Customer View
From Customer Contact Details, Contracts, Invoices, Project Details, Customer Contact Persons anything related to a customer in one view. Drive customer service through the roof.

Customer Portal
Would you want to enable your customers from accessing documents related to them, instead of constant requests for documents we are able to show customers only their documents cutting down time for retrieval. This is great for legal firms.

Support Tracking
We are able to build strong workflows to allow you to ensure that customer support issues are brought to a completion in the best manner possible.
Gain visibility on any outstanding customer issues with a click of a button.

Customer On-Boarding
From Contract Management to Required Documents like KRA PIN's – we are able to automate the entire customer on-boarding lifecycle for you.
We ensure a workflow is followed to allow you to smoothly and efficiently on-board customers.