FEATURES

Templates for Quick
Document Generation
Imagine having the ability to click New Document – and generate a new letter head ready to type out and send. Furthermore the beauty of having it automatically saved correctly to the recipient.
Thats the magic of our correspondence package.

Prevent Fraud
Its extremely important to ensure documents coming out of your organization are originating from your company. We put a unique incrementing identifier to every document leave your organization.

Find Documents Super
Quickly
With high levels of correspondence going out and coming into an Organization it can often become pain staking to find the right letter. However with the I-Zuri Correspondence Package – you just need a few keywords and you can find the right document.

Route Documents to the
Right Person
Through powerful workflows we are able to route documents to the correct person to take action.
Never have a non-responded letter.
Up and Running in Less Than a Week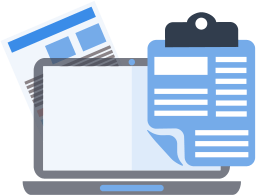 Why Choose I-Zuri?
i-Zuri Packages are built using best practices from different industries where we have done implementations. They are designed to be user friendly and ready to run within a few days allowing us to focus on usage and not development effort.
Get in touch with us to experience a demo of the Import and Export Package and see the benefits that your organisation can gain from it.
Get In Touch with us and Let us
"Upgrade Your Business"