FEATURES

Secure documents while making them accessible
It's important to keep your documents safe while making sure everyone in your company has access to the content they need. Permissions are set automatically and dynamically in i27. Automate document security and accessibility for everyone.

Find documents
instantly
Sometimes finding the right document when you need it seems impossible. Where was that file saved? Who edited it last?
What if it didn't matter?
i27 eliminates the chaos of traditional folders by organizing content based on what it is, so you never have to remember where a document is saved or which version is the right one.

One version of
every document
What if everyone in your organization could always find the precise and up-to-date document they needed quickly? In i27, there's only one version of every document. No matter what type of document is needed, it's always current.

Sharing &
collaboration
Sharing documents in i27 is as easy as a right click. Whether you need to send someone a document or collaborate with colleagues, M-Files keeps everything streamlined and organized.
What's New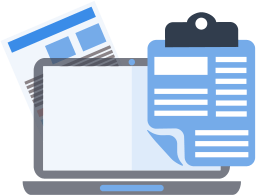 Why Choose I-Zuri?
Thousands of businesses in over 100 countries use M-Files on-premises, in the cloud or in hybrid environments to improve productivity and quality, and to ensure compliance with industry regulations and standards.
M-Files enterprise information management (EIM) solutions transform how businesses manage, secure and share information with a unique metadata-driven approach that organizes and processes document and other content based on what it is, rather than where it is.
Major new features & enhancements in I-Zuri
M-Files 2015.3 (released in October 2016):
Speed and performance improvements – M-Files 2015.3 is faster in daily operations than 2015.2. New diagnostic tools even indicate if the network connection to the server is slow.
Search multiple vaults – M-Files now shows the number of search results in other vaults. Navigate into those vaults directly from the vault where you performed the initial search!
Easier refinement of searches with Faceted Search – M-Files Enterprise now offers dynamic search facets that allow you to refine searches with a few clicks and find what you need faster.
Enhancements to file sharing features.
Annotations and redlining support for M-Files Mobile (Android and iOS).
Support for hand-written signatures in M-Files Mobile (Android and iOS).
Security improvements to the M-Files mobile apps.
Usability improvements to saving files with mobile apps.
Compatibility with Microsoft SQL Server 2016
Compatibility with Windows Server 2016
Get In Touch with us and Let us
"Upgrade Your Business"