M-Files: Intelligent Metadata Later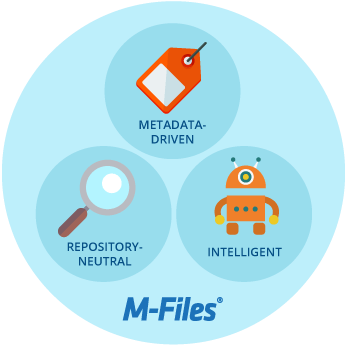 M-Files is soon to release a new revolutionary way to manage your documents and information which reside in different silos. Learn more about the new features being release below:-
Repository Neutral?
What if it didn't matter where content is stored, and you could use just one platform to access different information silos? Access Dropbox, Network Folders, Google Drive, One Drive and a Lot More via One Platform.
Artificial Intelligence
Imagine having metadata suggestions to ease adding content into the document vault. Adding content into M-Files becomes faster, more accurate and easier.
Expose Content To M-Files Features
Be able to utilise powerful product features of M-Files on your external content, such as workflows, permissions, notifications, version management, dynamic views, contextual tree views, offline availability, e-signing and much more!
Get In Touch for a Demo on This Revolutionary New Approach to Managing Your Content or learn more by watching this video:
Email sales@i27solutions.com or call us on 0702 272727 – we look forward to upgrading your business.